Welcome to SmartBlock.
SmartBlock is designed to make submitting your hotel room block for American Nurses Credentialing Center request as quick and easy as possible.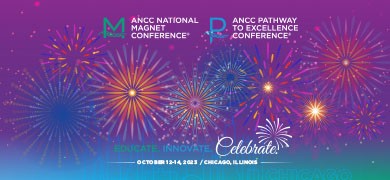 Policies & Guidelines
Welcome to SmartBlock®-the 2023 ANCC National Magnet Conference® and Pathway to Excellence Conference® Hotel Housing Sub-Block Request Site! The American Nurses Credentialing Center (ANCC) is excited that you are planning to attend. This year we are utilizing the services of Connections Housing as the official housing provider for this event.
By booking with SmartBlock®@ Connections Housing, you are supporting the conference ensuring ANCC can keep registration rates low, negotiate the best room rates, meeting space and the best rates for future annual meeting cities.
We are now accepting room requests for 10 or more rooms. Through this website you can request your day-by-day hotel needs for your group. Before proceeding, please note the housing policies within SmartBlock®:
Rooming List Deadline Date: Tuesday, August 1, 2023
If applicable, check payments must be received by Monday, August 14, 2023
Individual Reservation Cancel Policy: 72-Hours prior to arrival date
Please review the Hotel Map & Amenities Chart in the "Event Info" button at the top SmartBlock® page
Be sure to acknowledge the event policies and guidelines at the bottom of the page
Next add your contact information
On the next page, you will enter the number of rooms needed night-by-night and select from the official conference hotels
Bed types are a request and cannot be guaranteed
You must also rank your hotel choices 1-6
If you have any questions during the booking request process, please email ancchousing@connectionshousing.com for support.
IMPORTANT: After completing the online sub-block form, please call Connections Housing at 404-842-0000 (Mon-Fri) between the hours of 9:00 a.m. – 6:00 p.m. EDT to provide a credit card number to secure your block. Only upon obtaining the credit card number will your room block request be completed.
NOTE: The Hyatt Regency McCormick Place is the official headquarter hotel. The Hyatt will charge a one night's room and tax deposit, per reservation, on or after September 20, 2023 (subject to change). Room Blocks are assigned on a first come, first served basis. Some hotels require a three (3) night minimum stay to include Wednesday, Thursday, and Friday nights.
Please note: All block requests require credit card numbers to hold the block. The credit card number must be phoned into Connections Housing after you make your sub-block request. Any submissions received after 4:30 pm on Friday, May 26, 2023 will be reviewed and processed on Tuesday, May 30, 2023, provided a credit card number has been called in. Please note the call center will be closed on Saturday, Sunday and Monday in observance of Memorial Day.